RSocks offers you very fast and legit 150K residential proxies and 390K exclusive proxies to solve all sorts of problems such as mailing, registrations and social networks, checking, parsing, using them in SEO and other activities.
They have by far the largest choice of pricing plans with an astonishing 20 choices! All depending on your location and needs, starting from $600/ month and 9000 proxies. And they also offer a 24-hour money back guarantee if you still feel uncertain.
After a thorough test of their proxies, this is what we got.
RSocks Residential Proxies
General Review
Traffic
All pricing plans come with unlimited bandwidth.
Pricing
When choosing a plan, you can choose from either Residential proxy and Exclusive proxy. A Residential proxy is a shared IP, and an Exclusive proxy is a dedicated (or private) residential mobile IP.
So when choosing from either one of them, Exclusive is the more pricey one. Either way, whatever you wish to choose, the price depends on the number of residential IPs that you wish to get. So, it all depends on your location and needs, but the price starts from $600/ month and 9000 proxies. You can find all of the prices here.  
Pool size
As their website suggests, they have 150,000 residential proxies and 390,000 exclusive proxies.
Locations
There is not a lot of information regarding the location coverage, but when you buy your proxies, they let you choose from Russia, USA, Europe, China, and Vietnam.
Setup
When you buy a proxy package from RSocks, you get a number of different ports with the same endpoint.
Every port holds the same IP until it's online and available. If it's not, their infrastructure replaces the IP automatically.
Authorization method
Authorization is only available with one whitelisted IP. You can get a second whitelisted IP, but then the price increases greatly.
Sub-users
Not available.
Session-control
Not available, however, every endpoint continues to hold the same IP until it becomes unreachable.
Filters
There are a few available filters:
Location –

 however, the only way to choose proxies on a country level is to buy the

Residential

proxy

plan. Then you can choose from a few country-level plans: Russia, USA, Europe, China, and Vietnam. Only these 5 countries are available.

Proxy type –

as mentioned above, you can choose the

Exclusive

proxy

which is a residential mobile IP, or

Residential

proxy

, which is a simple residential IP.

ASN/Provider/Carrier –

not available.
Protocols
RSocks support HTTP, HTTPS, SOCKS5 protocols.
Dashboard.
Usage statistics. Not available.
Credentials/Whitelist IP change. Yes.
Support tickets. Yes.
Renew plans. Yes.
Live chat.  Yes.
With the RSocks dashboard, you can change credentials or whitelisted IPs, renew plans, open a support ticket and also contact them through a live chat. However, usage statistics are not available.
Customer support
As mentioned before, you can open a support ticket to which they will respond only in a few hours. You can contact them through live chat – to which they respond in a few minutes, or you can contact them through Skype, to which they also respond in a few minutes.
Noteworthy – they always notify you when your subscription is coming to an end and they answer during the nighttime.
Performance
We checked the proxy speed using the free FOGLDN Proxy Tester.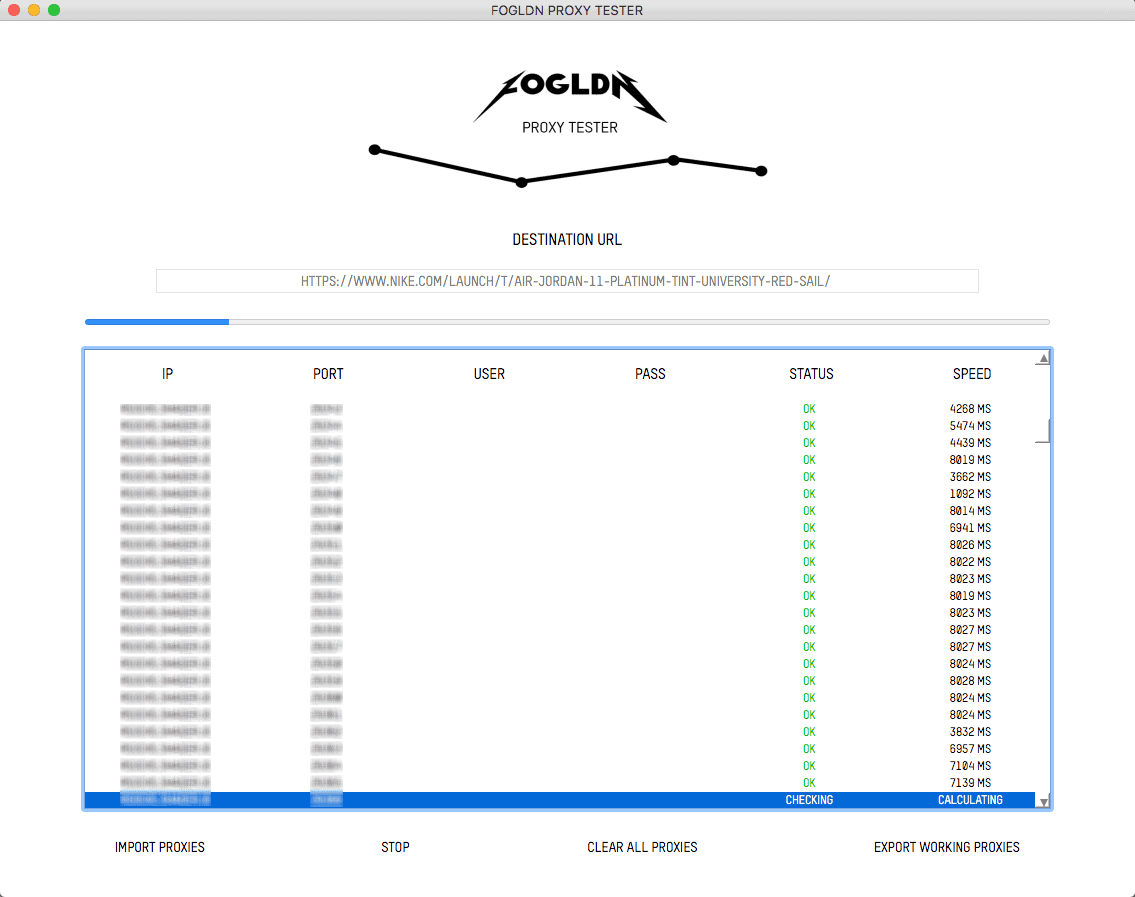 Average speed: 7 sec.
As you can see, they are pretty sufficient with their speeds, however, it's not that great, especially if you are scraping sneaker sites. (If you want to know what are the top sneaker proxy providers, click here.) When you do, you want faster proxies than these, but there is a plus that there were no connection errors and all tires had an OK status. 
Then we tested the overall performance of RSocks proxies by using our own testing script. During this test, we gradually increased the number of concurrent connections and put the proxies on a huge load. The graph below shows what happens when we do that: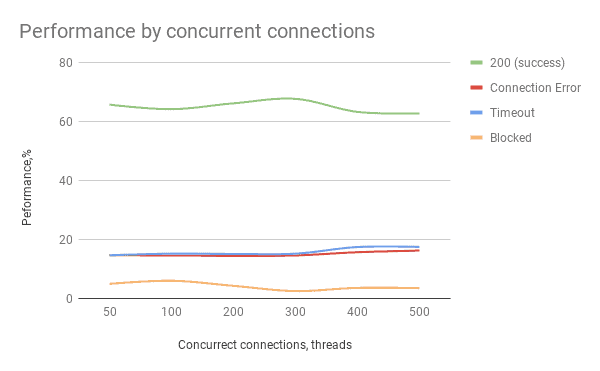 As you can see, if we increase concurrent connections over 300, the number of timeouts and connection errors begin to grow, but only slightly. However, the number of blocked IPs slightly decrease.
Below you can see a detailed breakdown of the performance test results. As with other proxy providers, we used a 300 concurrent connections' benchmark.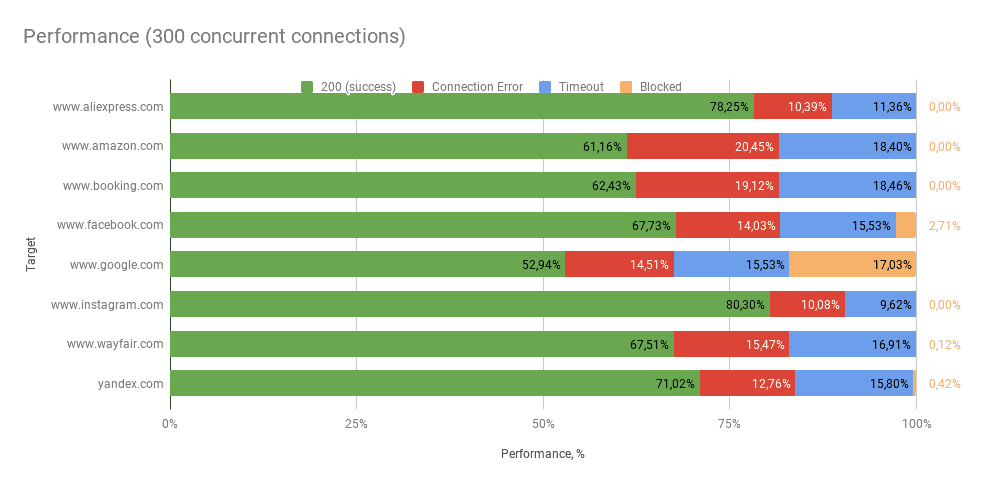 RSocks has quite a high number of connection errors which is typical to providers that offer unlimited traffic. They also get almost an equal amount of timeouts throughout all of the websites.
RSocks proxies are mostly blocked with google.com and facebook.com. But as you can see below, the blocks to google.com were 503 error (recaptcha). This is not good if you do not use a recaptcha solver. But at least it is not blocked with a 403 error (which is google heavy block). Whereas for facebook.com we got a small response size bodies. This usually means that those IPs got restriction response from Facebook alone.   
| | | | | | |
| --- | --- | --- | --- | --- | --- |
| Blocked requests statistic | | | | | |
| Target/status | 200 (captcha) | 503 (recaptcha) | 502 | 403 | 429 |
| www.aliexpress.com | 0 | 0 | 0 | 0 | 0 |
| www.amazon.com | 110 | 0 | 2 | 0 | 0 |
| www.booking.com | 0 | 0 | 0 | 0 | 0 |
| www.facebook.com | 0 | 0 | 0 | 0 | 0 |
| www.google.com | 0 | 4944 | 0 | 0 | 0 |
| www.instagram.com | 0 | 0 | 0 | 0 | 0 |
| www.wayfair.com | 0 | 0 | 0 | 70 | 1 |
| yandex.com | 39 | 0 | 0 | 0 | 0 |
When it comes to the average response time, RSocks are doing pretty well when comparing to other proxy providers: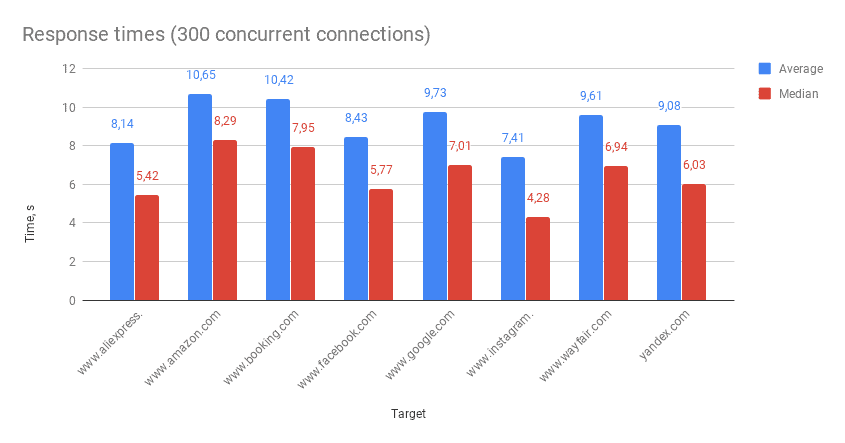 Though the average and median times greatly vary, so the response time during the testing was not quite stable. RSocks proxies were on the slightly faster than average speeds, as you can see the slowest was amazon.com with 10.56 seconds average response time.
But keeping in mind that amazon.com is a very difficult target, these results are pretty good. But let us not that either the speed were pretty good, they are pretty slow for a sneaker site scraper.  
Conclusions
RSocks have a few good advantages – they are pretty fast given the fact that they have unlimited traffic, they have great support that responds during the nighttime, and some filters to choose the best plan you need, and when it comes to the response time, is a little above average. However, there were quite a few timeouts and connection errors so keep that in mind.
Also, the speed to price ratio is not the best out there, and the locations are very limited. Google.com was more frequently blocked, and as mentioned earlier, if you do not use a recaptcha solver, you'll encounter some difficulties.
You can only select from 5 countries and they do not provide you with too much information about more possible locations. But for a proxy provider that offers unlimited traffic – they are pretty fast, and that is something to take into consideration.
Rating: 7.9
See the full list of the top residential proxy providers.